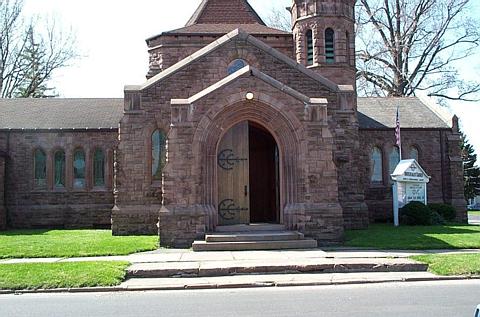 HISTORIC SKETCH OF THE PULLMAN MEMORIAL UNIVERSALIST CHURCH
The history of our church began with the Pullman Family who moved to Albion, N.Y. from Chautauqua Country, N.Y. in 1845. James Lewis Pullman and Emily Caroline Pullman had ten children of which George M. Pullman 1831 - 1897 was the third. James Lewis Pullman was a 'cabinetmaker' or builder of fine furniture. George worked some in his father's business, but decided to go to Chicago where he gained a reputation for moving buildings. After saving his money, he bought the patent for a railroad sleeper car design and produced his first car in 1858. From this small beginning he became an industrial magnate and his name became synonymous with first class railroad travel.
Throughout the years he always maintained early friendships with people of the Albion area where he grew up. It was in 1890 that a friend of long standing, Mr. Charles A. Danolds, suggested to George M. Pullman that a need existed for a Universalist Church in Albion. George Pullman immediately agreed and said he would build such an edifice in memory of his parents if the local Universalists could raise $5,000 to show their interest. As a result, at a meeting held in the Orleans County Court House on August 18, 1891, the Pullman Memorial Universalist Church of Albion, NY was legally incorporated. By December 25, 1892 it was reported that the $5,000 guarantee fund had been raised. During the year 1893 George Pullman visited Albion and selected the site and had his own personal architect, S S Beman of Chicago, draw up plans for the church building. On May 19, 1894 the cornerstone of the PMUC was laid by the Grand Master of the Masonic Lodge of New York State. The building of the church progressed rapidly during 1894. The famed Louis C. Tiffany was present for the installation of the windows made by his Tiffany Glass and Decorating Company. There are forty-one windows in the audience room. One of particular note is the figure of the prophet Jesus. On January 31, 1895 the church was formally dedicated with George M. Pullman present. He delivered the deed of the property to the congregation.
Little change has taken place in the building as designed by Beman, although at one time it had a red Spanish tile roof which leaked, making it necessary to repaint the interior.
The congregation has been served by eleven full-time ministers and two part-time ministers throughout the years. In 1961 the Pullman Memorial Church affiliated itself within the merger of the Unitarian Universalist Association.
CWL 1984
---